Your specialist for rotary die cutters
20 augustus 2015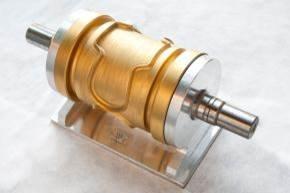 Die cutting comes in a variety of different methods, such as flatbed die cutting, press die cutting, laser die cutting and rotary die cutting. The precise finishing of the rollers' cutting edge by microscopic grinding is one of our most valued specialties. We can achieve precision up to 5 µm.
Custom built rotary cutters
All rotating die cutters can be custom built for your machines and your industry. Our machines are able to produce cutting rollers up to a diameter of 620 mm with a length up to 2000 mm between the centers, so there is always a die cutter available for your intended application.
What is die cutting good for?
Rotary die cutting functions well on high volume cutting projects, delivering a consistent cut with a very low precision tolerance. Also, the amount of waste produced by rotary die cutting is significantly less than when using comparable methods. The biggest advantage of our rotating die cutters is the amount of time needed to get the job done. Die cutting guarantees fast turnaround times. The time saving combined with great precision is what matters most for your company.
Die cutter maintenance and coating
With the intensive industrial use of your blades, they become less sharp and receive general wear and tear. To increase the lifespan of your rotary cutter blades, we can apply a new coating to the blades. Recoating a die cutter hardens and enhances scratch, wear and corrosion resistance. Apart from recoating used rotary cutter blades, our in-company grinding service can also regrind used blades to work as if they were brand new. Our specialties include using microscopic regrinding to make sure all irregularities are smoothened, for the best result possible.
Are you interested in using our rotating die cutters, or if you would like to read more about die cutting, have a look at our rotary die cutters.
---
Naar nieuwsoverzicht