Profile grinding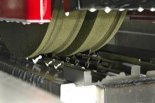 When it comes to profile-ground products, Tebra is your competent partner. We operate a well-equipped, state-of-the-art grinding shop with high-precision CNC machinery. As a manufacturer and supplier of machine blades, Tebra can profile-grind both flat and circular products. Our CNC grinders have been specifically designed to profile stones fast and accurately. The fact that various machines provide advanced CAD/CAM connections enables us to grind sophisticated profiles, threads and polygons.
We profile grind to your needs
With profile grinding, a pre-profiled grinding wheel provides parts with a profile, such as a saw blade pattern or a Z-pattern for example. Our flat profile grinding equipment enables us to grind stamps, folding blades, serrated blades and many other profiles without a problem. This makes profile grinding the ideal solution for adjusting parts to work within the intended application, or creating entirely new custom machine parts.
Why we make your perfect partner

We are experts when it comes to CNC profile grinding. We stand out from our competitors because of our expertise and general high quality level. We have state-of-the-art machinery and apply CAD/CAM techniques in our grinding services. Our creativity level can assist you to get the best product available for the application.
Interested in profile grinding?
If you are interested in what our profile grinding services could mean for your company, or if you have any questions about profile grinding, please contact us by filling in the form below. We will get in touch with you as soon as possible.