Surface grinding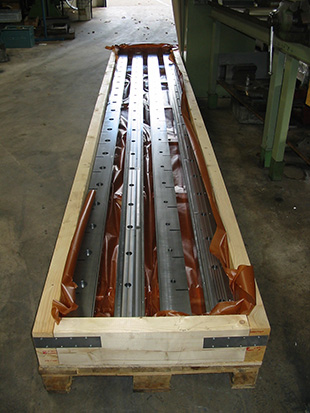 Surface grinding is used to produce a smooth finish on metal surfaces, such as blades. Tebra operates surface grinding machines of up to 5.5 meters length. The maximum width of the products to be ground on these machines is 400 mm. Applications vary from heavy, rapid stock removal to precision tolerance operations. Some other examples of applications for surface grinding are:
Sharpening knives and blades
Grinding large molds, dies and plates
Producing flat stock
Precision surface grinding
We operate CNC precision grinding machines with a grinding surface of 1150x630 mm. The highest possible precision we are able to provide, depending on respective item dimensions and geometry, is in the µm range.
Interested in surface grinding?
If you are interested in what our surface grinding services could mean for your company, or if you have any questions about surface grinding, please contact us by filling in the form below. We will get in touch with you as soon as possible.