Slicing knives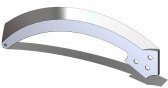 Tebra is a supplier and manufacturer which provides a broad range of industrial blades. We produce shear blades, circular blades, straight blades, special blades that feature special contours, welded blades, and much more. But that is not all! We also produce various knives for various industries, of which slicing knives for the food industry. Our extensive machinery enables us to guarantee the high precision required for specific application.
At delivery, the products have to meet customer requirements. By effective test procedures, precise work instructions and highly experienced personnel, we ensure constantly high quality slicing knives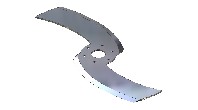 Our long-standing experience in combination with a well-trained staff and state-of-the-art technology ensure efficiently produced knives on a constant high quality level. We want to make sure that our customers only receive slicing knives of the best quality. In addition, all of our knives have perfect smooth cutting edges.
Apart from slicing knives for the food industry we also produce blades for many other industries – among them for instance, the paper industry, the recycling industry, the tobacco industry and rubber industry.
Need help with slicing knives?
We can identify most blades by their article number. By using samples or drawings, we can produce nearly identical blades of blades we do not know.