Press brake blade regrinding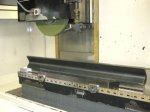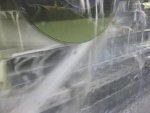 Thanks to our streamlined procedure and experience, we can repair most of the blade damages. Our procedure consist of multiple steps to ensure the quickest service with quality:
Determination of the most severely damaged blade of the set
Determination of bended blades
Determination of minimum grinding depth and the blade set's new height
Determination of the necessity to post-process the backlash
Informing the customer when substantial deviations are found
Repairing blade damage
After grinding, all blades are inspected and accurately measured. As a result of our approach, your machine blades will be in peak form and seamlessly merge into each other. When the blades are returned, we will also provide a measurement report.
Blade repair prices and delivery times
Our prices for grinding services depend on the extent of the damage to be cured. Usually, our respective delivery time is 2 weeks. However, we can also agree fixed dates for the blades to be ground. In this case your blades will be out of service for brief periods only.
Want your press blades reground?
Are you interested in our regrinding service for press brake blades? Fill in the form below and we will get in touch with you soon. We are pleased to answer all of your questions.